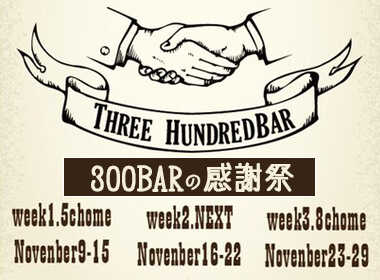 This year, Ginza 300 BAR NEXT is celebrating its 6th anniversary! We thank you all for your loyal patronage and support for these years.
For the second event of our Thanksgiving celebration, we would like to celebrate our 6th anniversary of the 300BAR NEXT-branch from November 16th to 22nd.
The theme is AWESOME AUTUMN. We will be serving drinks and food created by our staff using "autumnal" ingredients!
With a twist on a classic and a HARVEST theme, just like NEXT-branch, we are waiting for you.
We hope you have a great time!
◆ Thanksgiving limited original cocktails
Four original cocktails created by the NEXT bar staff
 1 AUTUMN ALEXANDER 
 Homemade marron glacé brandy, pumpkin, hazelnut, and other Autumn  flavors. A dessert cocktail for grown-ups.
 2 HOENY APPLE SOUR
 A simple Sour cup of grated apples dipped in honey.
 3 KAKI PIROSKA
 This cocktail is made with plenty of organic persimmon jam from Tohoku Bokujo Farm. This is a twisted cocktail that brings out
 the natural sweetness of this drink.
 4 MOUNTAIN GRAPES MARTINI
 This cocktail is made with mountain grapes from Touhoku Bokujo Farm and gives you a sense of Autumn. It's a sweet and refreshing cocktail.
◆ Thanksgiving limited original food
 Two types of original food designed by NEXT staff
#1 AUTUMN FRITTERS
 Autumn flavors in crispy and delicious fritters.
#2 MUSHROOM HOTSAND
 Milky hot sandwiches with mushrooms and sweet potatoes.